Retrace Picassos Mysterious Life on This Tour Through Spain and France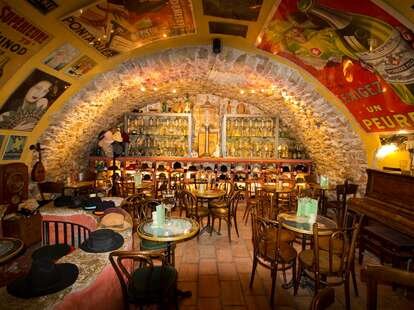 Photo courtesy of The Antibes Juan-les-Pins Tourist Office
Pablo Picasso was far from perfect. Other than being a famous artist, he was fairly known as a misogynist and a heavy drinkerbut he was also someone who made an impression, particularly on his old stomping grounds in Spain and France. Whatever you think of his influence on the avant-garde movement and introducing Cubism to the art scene, he certainly knew how to have a good time throughout Barcelona, Paris, and the French Riviera.
April 8, 2023 marked the 50th anniversary of the famed artists death, an event thats being acknowledged the world over via special exhibitions, tours, and other tributes exploring the iconic masters lasting legacy. And since the majority of these celebrations happen to take place in picturesque European hotspots, theres never been a better excuse to join a whirlwind tour of Picassos favorite and most inspirational haunts.
On the agenda? Visit the very places where he lived and worked, indulge in local cuisine, and take in the cultural landscapes that influenced the artists work. The expedition kicks off in Picassos hometown of Mlaga before continuing on to Barcelona, where Catalan cuisine is just one of the lively metropoliss many enticements. Later, youll take on the beloved coastal towns of Cte dAzur before setting your sights on undeniably charming Paris for the ultimate grand finale. Heres everything you need to know to retrace Picassos steps and embark on a nostalgic, artistic, golden-age trip of a lifetime this summer.
Mlaga, Spain
Start your journey in Mlaga, Picassos birthplace. Here you can explore the bustling Plaza de la Constitucin and Calle Larios, and stop at the Casa Mira ice cream shop for some respite from the Spanish sun. Dont miss La Manquita, the captivating unfinished Catedral de la Encarnacin de Mlaga.
Take a selfie with a bronze statue of Picasso at Plaza de la Merced before visiting the Picasso Foundation and Birthplace Museum. Discover the Moorish charm of the Church of Santiago, where Picasso was baptized, and make time for the historic Alcazaba of Mlaga.
Commemorate the 20th anniversary of the Museo Picasso Mlaga by exploring the artists sculptures in Picasso Sculptor. Matter and Body. The collection showcases works like Head of a Warrior and Woman with Vase, highlighting the variety of styles and materials that Picasso used, including plaster, bronze figures, cement, and wood. Look out for Picassos doppelganger, museum founder Bernard Ruiz-Picasso, who is also his grandson.
Wander the streets of old Mlaga until you start craving some tapas and wine. Sample the impressive wine list at Los Patios de Beatas, or stop by Illari Vinos y Tapas for some croquetas and G&Ts. The Matiz restaurant at Hotel Molina Lario offers a rotating tasting menu, which has previously included innovative ingredients like fried corn dust and basil slush.
Barcelona, Spain
Next, we arrive in Barcelonayoung Picassos stomping grounds. Start at the famous tavern, Els Quatre Gats (a local hangout spot for bohemian artists and musicians) where Picasso held his first solo exhibition. This is where the artist met the likes of Carles Casagemas and Ramn Casas of the Modernisme movement. Gaud was also a regular patron, but youll need a dedicated tour to fully appreciate his work.
Wander through the Gothic Quarter, and visit the Catedral de Barcelona for some old-world vibes. Encounter the historic Roman tombs at Plaa Villa Madrid on the way to Las Ramblas, where people-watching never gets old. Slow down and take in the palm trees and architecture at Plaa Reial before arriving at Carrer dAviny, 44. Picasso and his friends frequented the brothel that was once on this street, an experience that would influence his masterpiece, Les Demoiselles dAvignon.
Enjoy some wine on The Rooftop at Serras Hotel while admiring the Mediterranean views captured by Picasso in his work. This was also the location of the artists first studio in Barcelona, where he painted Ciencia y Caridad, or Science and Charity. Head to the Museu Picasso de Barcelona to see this famous piece and other early works that defined Picassos time in this city. Youll find notebooks, memorabilia, and many of his paintings, including his depiction of the iconic Barcelona Rooftops.
After the museum, head back out to experience the citys sunset magic and relax at a sidewalk restaurant, Vereda Bar. If youre feeling thirsty, the sangria and cocktails at LAlcoba Azul are calling your name. Then, like Picasso, say goodbye to Spain and grab your passport, to follow the artists footsteps to France.
Antibes, France
Its no wonder that Picasso fell in love with the sun-kissed shores of Cte dAzur and spent so much of his life here. Starting in the Old Town of Antibes, nestled between Nice and Cannes, stroll through the cobbled streets and make your way to Port Vauban, where you can take in the views of Le Fort Carr in the distance. Grab a Cappuccino at NOMADS coffee or some fresh bread at March provenal, where you can easily spend your morning chatting with local vendors and fighting the urge to buy fragrant spices.
The notorious Bar Absinthe is right around the corner, located inside a 9th-century vault. The cave-like ceilings are covered in vintage posters and memorabilia. Find the green fairy in the Absinthe tasting room before heading to the Chteau Grimaldi, where you can see several of Picassos pieces along with panoramic views of the French Riviera.
Picasso gifted his works to the chteaunow known as Muse Picassosaying, Anyone who wants to see them will have to come to Antibes. His fondness for Antibes is obvious in his painting La Joie de Vivreas is a central female figure resembling his lover, Franoise Gilot. The museum also has photos by his photographer-friend Michel Sima, who captured Picassos time at the Chteau, and dont miss the impressive collection of sculptures on the terrace.
Now its time for an afternoon pick-me-up at the scenic Lilian Bonnefoi Ptisserie, where lunch is as good as the chocolate. If youre here in July, stay for the annual Jazz Juan festival, and treat yourself to cocktails and a swim at the iconic Hotel du Cap-Eden-Roc in Cap dAntibes.
Vallauris-Golfe Juan, France
Our next stop is Vallauris, a quaint coastal village close to Antibes, where Picasso established his ceramics studio and met his second and last wife, Jacqueline Roque. Meander through adorable streets and admire the colorful shops before checking out Picassos sculpture LHomme au Mouton or Man with a Sheep.
Another monument in the village square is Les Monuments aux Morts, a memorial dedicated to those who lost their lives during the war. Dont miss the Picasso National Museum War and Peace, the Museum of Ceramics, and the Magnelli Museum at the Vallauris Castle-Museum. Also, Picasso produced almost 4,000 pottery pieces in the Madoura workshop, many of which can be viewed at the exhibit, Shapes and Metamorphoses: Picassos Ceramic Creation, through October 30, 2023.
Walk into the chapel of the Renaissance castle to see Picassos largest artwork, War and Peace. As a member of the French communist party, Picassos reflection on the post-war era include symbols of bloody swords and devils that transition to love-making, picnics, and the cleansing blue sea.
Your time in Vallauris is incomplete without visiting the Nrolium, where you can find all things made from bitter orange tree flowers. From orange wine and marmalade to fragrances and skincare products, there's a variety of unusual souvenir options.
Mougins, France
Wake up in the heart of nature at Le Manoir de lEtang, a 19th-century manor house in captivating Mougins. Indulge in breakfast with the current owner, Camilla, who will tell you all about the manors history before you head to the village to explore art, restaurants, and more. Check-in at the Mougins Tourist Office to kick off the guided Picasso tour.
Among the many outdoor sculptures in the village, you will be greeted by an oversized Picasso head created by Gabriel Sterk. Stroll through the alleyways and check out the local galleries and street art. Step inside the famous Htel Vaste Horizon, where several creatives (including Dora Marr, Man Ray, and Jean Cocteau) would spend their summers. You can see the exact room where Picasso stayed, with a lovely little balcony and walls covered in Marr and Rays photographs that tell intimate stories about the artist. Visit Le Lavoir (Wash House) for a temporary exhibition of 30 photos from the Andr Villers collection, offering a peek into Picassos life on the Cte dAzur.
Arrive at MACM, Muse dArt Classique de Mougins, for the temporary exhibit Picasso Through Others Eyes, available through September 30, 2023. The show has four chaptersPicasso as the man, the womans view, his company of friends, and his worklooking at the artist through the eyes of photographers, muses, and lovers. Discover Picassos fascination with ancient mythology and the minotaur motif juxtaposed with antique artifacts. MACM also has a rich permanent collection of works by modern artists like Chagall, Dali, Haring, and Warhol.
To finish your Picasso tour in Mougins, drive to the Chapelle Notre-Dame de Vie. Catch a glimpse of the $24 million Villa Notre-Dame-de-Vie through the surrounding hedges, nicknamed the Lair of the Minotaur. This was Picassos final home with his wife, Jacqueline Roque. Ultimately this is where they both diedPicasso in 1973 at 91, and Roque tragically shot herself in 1986. Inside the chapel, you can find images of Picasso taken by his friend, Lucien Clergue. The chapel gardens are also home to Beth Carters minotaur sculptures, the perfect ode to Picasso and Mougins.
Treat yourself to cocktails on the terrace at La Rserve Mougins Luxury Retreats and enjoy the sunset. Savor the regions flavors at your final meal on the French Riviera, and dine at the Michelin-approved La Place de Mougins before you leave for your last destination.
Paris, France
At last, we arrive in Paris. The City of Lights became Picassos artistic home and remains a popular creative hub today. For bonus points, you could prepare by reading In Montmartre: Picasso, Matisse and Modernism in Paris 1900-1910 for a portal into the Parisian way of cafes and cabarets back then. Speaking of portals, eat some fougasse as you spend the morning taking in Montmartres hippy vibes. Or pamper yourself with a lavish lunch at the artsy Moulin de la Galette before heading down to the Marais.
Get ready to be blown away at the stunning Muse National Picasso-Paris. On view until August 27, 2023, the 50th death anniversary exhibition, The Collection In a New Light, showcases the evolution of Picassos paintings, sculptures, and sketches through trendy patterns, textures, and pops of color, art directed by Paul Smith.
Dont miss the Stripes room, featuring portraits of women against brightly striped walls, including Marie-Thrse Walter, one of Picassos lovers. Contemporary artists like Obi Okigbo, Mickalene Thomas, and Chri Samba also have pieces in the exhibition, opening up new conversations about Picassos work.
Continue on to Montparnasse for more inspiration and some wine, of course. Get buzzed at La Rotonde, a true institution frequented by artists like Picasso and Modigliani. And have a leisurely dinner at Sacre Frenchy. Their onion soup is a must-try, even if its hot outside.
Want more Thrillist? Follow us on Instagram, TikTok, Twitter, Facebook, Pinterest, and YouTube.
Manali Doshi is the Art Director and a contributor for Thrillist. You can find her on Instagram @driftinginnyc.